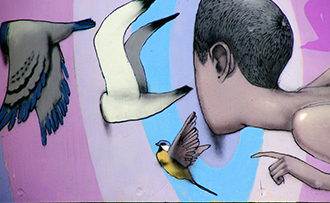 The new museum is the street: how did we get from Leonardo to Street Art
2h - 35€/person
7/7d
2h
Per person:

35€
---
Paris is one of the cities where Street Art has grown most in the last twenty years. In degraded or peripheral neighborhoods, as in the more chic and central neighborhoods, walking, turn the corner and you find yourself a work on an anonymous wall. Little by little the city has taken the configuration of a modern open-air art gallery. Steet Art, the term itself defines this type of figurative production, manifests itself, in fact, on the street, in public places and often illegally, as we shall see.
One of the Parisian theaters of the Street Art is the district of Ménilmontant and that's where our tour takes shape. Follow us on this hill of the twentieth arrondissement to discover together the origins of the movement, intense stories and messages hidden behind symbols and subjects, the techniques, the names of the "artists", if we can define them, behind every composition. Mission is not easy to investigate the identity of each one. If some, in fact, are now strangers and immediately identifiable, think of Némo with his black silhouettes and red balloons, Invader with his characters, Jérôme Mesnager and his usual white mannequins, for others the company of hunting the artist is difficult. Who has filled Paris with cute colorful baby octopuses? Or of all those wide-mouthed snakes that populate the city? What will they ever mean the many shimmering diamonds on display on city walls? Who are Megamatt, Ender and Fred le Chevalier? And yet, the horror vacui of the works of Bastek, the savannah savanna of Mosko et associés, the yellow cat of Monsieur Chat, the eyes that watch the city of CyKlope and many other new actors in the contemporary figurative scene are waiting for us.
The crazy road signs of Clet Abraham will still make us destabilize our beautiful manual conventions on contemporary art. And with the nose upwards, hunting for more and more new works, we will arrive at the top of the Belleville park to admire Paris lying at our feet and Seth's great fresco. In short, if you think you have already seen everything or almost in this city, you have to complete your baggage with this fun and informative tour, which will help you understand how graffiti from anthropological phenomena has become a form of dispute before and today in recognized art. How did we get from Mona Lisa to street art?
Highlights
Origins of Street Art
Tags and graffitis
Techniques and materials of Street Art
Leading artists of Street Art in Paris: Seth, Clet,

Jérôme

Mesnager and many more
Belleville district
Meeting point
Outside metro station Ménilmontant, next to the newspapers kiosque
What's included
Private guided tour with an official guide
OPTIONALS
+20€ The guide will pick you up at your accommodation in Paris to take you on foot or by public transport to the place of the tour (public transport tickets at your expense)