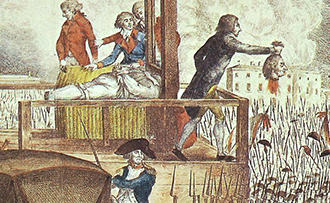 The tour that takes you to the places of the revolution that changed the world forever
2h - 35€/person
7/7d
2h
Per person:

35€
---
Are you interested in French history? Have you been thrilled by the Revolution since when did you follow Lady Oscar on TV, galloping on her white horse through the streets of Paris? Well, then, this tour is for you. Through the streets of the capital, we will retrace all the salient stages of the historical event that has forever changed France.
We will begin where, notoriously, it all started at place de la Bastille. It is there that on July 14, 1789 the French people in arms attempt and complete the assault on the local prison. The fortress, at that time, housed only seven inmates: four counterfeiters, two mentally ill and a libertine. But, then, why was it so determined to occupy it? Why is this place targeted and not another? Follow us to find out. We will pay tribute to Beaumarchais, the author of Le Nozze di Figaro and Il Barbiere di Siviglia, under the statue that celebrates him and there we will investigate thoroughly the reasons that led the French population to rise up. We'll take a few minutes inside the most "Roman" church in Paris, Saint-Paul-Saint-Louis, where an old writing takes us back to another important Parisian revolution: the City! We will continue to the Hôtel de Ville, the city hall of Paris, witness to clamorous events that marked the years of the Revolution. In the Châtelet square we will remember the horrors of the September massacres. While, from a distance we will see the Conciergerie, the most obscure prison in France, antechamber of the guillotine during the French Revolution. The cells of the building have hosted Louis XVI and Marie Antoinette, but also revolutionaries like Robespierre, the last Girondine deputies and Charlotte Corday, the young murderer of Marat. We will reach the Salle du Manège, the historical place where the National Assembly met and the Tuileries garden, where the palace of Caterina de 'Medici stood, that during the Terror, the bloodiest phase of the Revolution, was the seat of the feared Committee of public health. And again, the famous Place Vendôme. Why did the Parisian people hate her so much? We will go, for the last leg of our journey, to place de la Concorde, the ancient square of the Revolution, where the most famous gallows of Paris was installed and where the most bloody public spectacle of the Modarna era took place every day: 1119 the heads that rolled in this place under the guillotine.
In short, plots, hopes, utopias and barbarities, expertly and subtly told, through a two-hour walk between monuments and historic buildings to investigate together the ten years of French history that have completely changed the face of France and of Europe as a whole.
Highlights
Place de la Bastille

Beaumarchais statue

Saint-Paul-Saint-Louis Church

Hôtelde Ville (external view)

Place du C

hâtelet

Conciergerie (external view)

Salle du Manège (external view)

Tuileries Gardens

Place

Vendôme

Place de la Concorde
Meeting point
Métro Bastille, exit n.7 Place des Vosges
WHAT'S INCLUDED
Guided private tour with an expert official guide
ACCESSIBILITY
This tour is also accessible by wheelchair