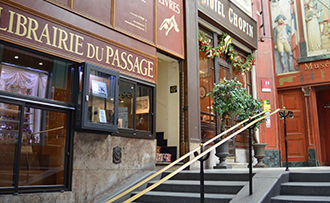 Lovers of the Belle Époque, would you like to live a few hours like real flâneurs?
2h - 35€/person
7/7d
2h
Per person:

35€
---
Does the idea of ​​immersing you in the authentic atmosphere of the nineteenth-century Ville Lumière and strolling lost in the city as only real Parisians are able to do? Make the spirit of Charles Baudelaire proud of you and become flâneurs with us for a few hours. We will accompany you to discover the famous covered passages of the capital.
Ancestors of modern shopping centers, these passages surmounted by cast iron and glass will offer us shelter from the chaos and smog of the Grands Boulevards and will welcome us among curious windows of old artisans and dusty fascinating bookshops. Are you ready, then? So many things are waiting for us! The oldest chocolate shop in Paris, À la mere de famille, with its long history started in 1761. The first historical steps, each with its own identity, the personal structure, the anecdotes related to them. Passage Verdeau with the Hôtel Drouot, historic auction building. Passage Jouffroy with the most famous walking sticks boutique in Paris. Why one of the buildings here bears the name of the composer Chopin? And what does the tragic affair of the two Italian anarchists Sacco and Vanzetti have to do with this place? Passage des Panormas, the most ancient of the surviving passages, to hunt on curious postage stamps and find the favorite reading room by Zola. And then, other important places, such as the Passage des Princes, the rue de Colonnes, the Paris Stock Exchange building, the Richelieu quadrilateral.
We will pass, finally, to the galleries, that is, to those slightly more elegant passages. The Galerie Colbert is the myth of Orpheus and Eurydice. Always of Greek mythology, with Hermes, we talk to the most famous and luxurious gallery of all, the Galerie Vivienne. Through the small passage of the Deux Pavillons we will arrive at the Palais-Royal gardens. As often happens, the architectural beauties intersect with the history, we will speak, in fact, of the cardinals Richelieu and Mazzarino, we will evoke revolutionary heroes such as Lepeletier and Marat. Where did the writer Colette live? Where did the playwright Molière die? Do you know where was the cutlery that served to Charlotte Corday the dagger to kill Marat? And the famous workshop of the publisher of Paul Verlaine and the other Parnassian poets? In short, the surprises that reserve this tour, to know them all, follow us!
Highlights
Passage Verdeau
Passage Jouffroy
Passage des Panoramas
Passage des Princes
Galerie Colbert
Galerie Vivienne
Galerie du Palais-Royal
Meeting point
Outside metro station Le Peletier
WHAT'S INCLUDED
Guided private tour with an expert official guide
ACCESSIBILITY
This tour is also accessible by wheelchair