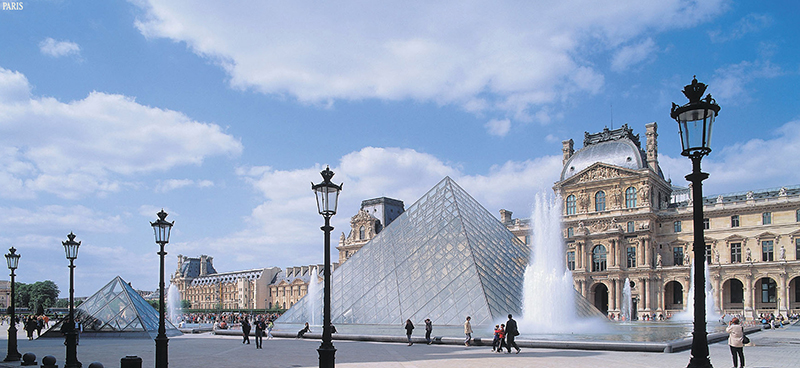 An essential tour to discover the masterpieces of the largest museum in the world.
2h - 52€/person skip-the-line ticket included
From WED to MON
2h
Per person:

52€

skip-the-line ticket included
---
It is unthinkable to come to Paris and not plan a visit to the Louvre: not for nothing, it is the most visited museum in the world.
Built as a fortress by Philip Augustus in 1190, from the fourteenth century the building houses the kings of France in a discontinuous manner. In the sixteenth century, Francis I made it a real royal residence, the main residence of the French sovereigns. Sumptuous as only a palace of kings can be, the Louvre is, you will realize, a work of art that contains works of art! In 1793 the Revolutionary Convention transformed it into the first public museum in the world: the palace of kings became the people's museum!
Since then the Louvre has never stopped growing, acquiring works and enlarging its surface. The Grand Louvre project, launched by President Mitterand in 1989, has even doubled its space and, again, new galleries have been opened in recent years. In short, the dimensions of the Louvre today are such as to inspire awe. The museum extends for 700 m along the Seine; a labyrinth of rooms divided into different sectors that host a priceless heritage: oriental, egyptian, Greek, Etruscan, Roman, Islamic, graphic arts, the great Italian gallery, French painting, the Flemish and German wing, the galleries of the sculptures, the royal apartments, the medieval moats. In other words, it is as if they were different thematic museums inside the big museum. More than 35,000 works exhibited in total, including paintings, sculptures and artifacts, it has been calculated that it would take nine months to see them all once!
What to do then to avoid the risk of wasting the ticket, spending hours and hours wandering the corridors exhausted and without even succeeding, finally, to see the Mona Lisa? Do not panic and let yourself be guided by one of our tours. We offer you a path that never misses the unavoidable appointments with the great masters: from Egypt to ancient Greece, from Italian to French art.
Highlights
The history of the museum and its architecture
The great masterpieces
MEETING POINT
Place du Carrousel, in front of the equestrian statue of Louis XIV
WHAT'S INCLUDED
Guided private tour with an expert official guide
Entrance ticket to the museum (skip-the-line)
ACCESSIBILITY
This tour is also accessible by wheelchair
PRICING VARIATIONS
Free admission ticket to museum for under 26s of the European Union and for all under 18s (on presentation of identity document at the entrance)
Those entitled to a free or reduced ticket price for the museum (handicapped and accompanying persons, etc.) must specify this at the time of booking.